Bespoke Fine Jewellery
For that important, memorable occasion, the ultimate gift is a Bespoke piece of Jewellery, a piece that will have special meaning and uniqueness, symbolising individuality.
Mark a memorable event or time for a special person with a Bespoke piece of Jewellery – a piece that will have special meaning and uniqueness, incorporating your own individuality. Our Bespoke/Redesign service is a collaboration between the Client and the Craftsman. Commissioning your own exclusive piece of jewellery is an exciting and rewarding experience and need not be complex or expensive. You can be involved at every stage, bringing to life your very own design. We work with you, listening, advising and assisting whilst working within your budget to your exact requirements and specification. As well as new jewellery we also work on the redesign of existing jewellery bringing back to life worn or dated items.  Unfortunately we are unable to produce Bespoke Jewellery pieces in silver; for bespoke items we work in gold and platinum.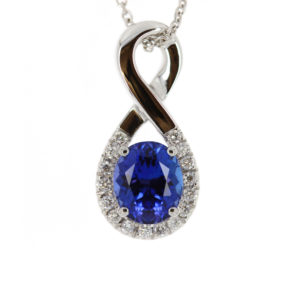 Steps to commissioning a bespoke piece of jewellery with Michael Platt
1. Consultation
If you have a very definite idea of what you require we will be able to quote immediately – if not, we will discuss all aspects of the intended piece; budget, stones, metal choice, settings, everyday wear or special occasion wear,  style, contemporary or classic etc. Sketches may be produced at this stage. View our portfolio of previous commissions
2. Brief
From the brief taken and agreed – detailed drawings, as near to actual size as possible, will be created to begin to bring your piece of jewellery to life. Please note that we do not manufacture Bespoke Jewellery pieces in silver, only in gold and platinum
3. Source & Selection
If necessary, source gemstones or diamonds for selection direct from raw material suppliers – as manufacturers, our long-term business relationships enable us to offer only the highest quality stones at extremely realistic prices.
4. View
View designs and stones, with the opportunity to make any amendments. Agree detail to begin to bring your piece of jewellery to life.
5. Final Approval
Approve final details, design and necessary materials required for the piece.
6. Costs & Timeline
Confirm price and delivery date (once instructed, on average, a bespoke piece will take between three & six weeks to complete). To bring your creation to life, we require a 50% deposit.
7. Producing your Jewellery
Depending on the method used – your piece may be first be freely hand carved in wax, prior to casting.  We can invite you to view your piece in its creative first wax stage if appropriate or a CAD detailed drawing and plan will be created from which the piece may be cast.
If it is to be cast, you may see your piece, still in a very raw state, for fitting prior to any stones being set.
Once your piece has been set and polished, it is sent to the Assay Office for Hallmarking.
8. Final Visit & Collection
The final visit is always a very special rewarding experience. It is joyful and satisfying for us to be able to present a piece of jewellery that has been created directly with client input that is meaningful and will become treasured, and much loved.
Our recipe for success is to offer a very personal service, high professional standards mixed with a little fun and lots of joy in delivering beautifully crafted jewellery to you.
This very personal stage by stage service is only available to customers visiting our shop for face to face consultations.
The final 50% payment is required on completion and can be paid either prior to or on the day of collection before the piece is released.